Creating Memorable Corporate Gifts
Your business gifts should be as unique as your brand. The Caramel House offers mouthwatering caramels in upscale packaging to get your message across in a distinctive way. I will work with you to create what you need to ensure your brand is memorable and fits both your style and budget.
To get your custom gift started, please contact me by email at janet@thecaramelhouse.com.
Frequently Asked Questions regarding ordering business gifts:
If I want an order delivered on a future date, when should I order?
Order as early as you'd like. You can place your order as soon as you have all the information. I will prepare your gifts fresh for the scheduled date.
How soon should I place my order for the holidays?
It is never too early to order. November/December is my busiest time of the year. I suggest contacting me as early as possible. I prioritize orders on a first-come, first-serve basis.
Celebrate your special occasions with St. Louis' finest, handcrafted salted caramels. Give the gift of unique melt-in-your mouth flavors of The Caramel House candies and treats to your favorite caramel snob to impress your family and friends!
At The Caramel House we take our salted caramel seriously. When you give the gift of The Caramel House, you are giving the nostalgic taste of mouthwatering salted caramel that shows the recipient just how special they are.
Spoil your out of town guests with a custom gift tote from The Caramel House! Choose from one of my suggestions or email me with your custom creation!
May we suggest The Taste of Saint Louis Gold Gift Box for $15.50! It's the perfect sampler of six flavors of salted caramels from throughout the state of Missouri including two each of Simply Salted, Vanilla, Lavender, Naked Turtle, Cookie & Caramel, and Coffee in our striking gold signature gift box.
You can take advantage of our Gift Tote and include two caramel popcorns (1 each Saint Louis Style and 1 Chicago Style) and a dozen Scotch Oatmeal Cookies.
Or customize by emailing me what you want from the menu!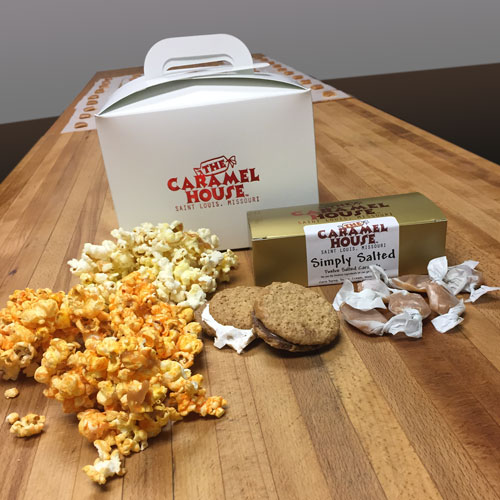 Nothing says "comfort food" like sweet and salty treats wrapped in love from The Caramel House! Customize your Care Package from the menu or select our classic combination below:
Signature Tote $30.00 includes:
12 Piece Simply Salted Signature Gold Box
2 Caramel Corn 1 Saint Louis Style and 1 Chicago Style
2 Scotch Oatmeal Sandwich Cookies (1 Salted Caramel/Marshmallow, 1 Caramel/ Chocolate Hazelnut)
Tucked lovingly into our signature tote!
Gift Packaging Options
From individual caramels to custom gift boxes, I offer a variety of custom packaging options.
2-Piece Box
2.5" x 2.5" x 1.25"
8-Piece Red Brocade Tote Bag
4.5" x 2" x 7"
6-Piece Box
5.5" x 2.75" x 1.75"
12-Piece Box
7" x 2" x 3.25"
Signature Gift Tote
8.5" x 10" x 4.5" (includes handle)